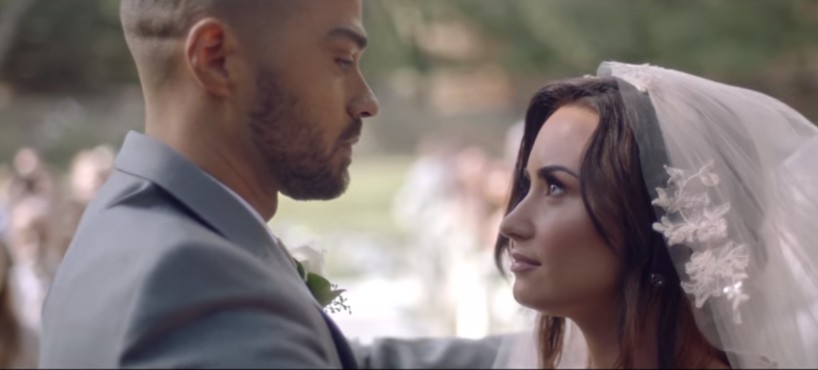 Dalam lirik lagu terbarunya, Tell Me You Love Me, Demi Lovato menunjukkan kerapuhannya sebagai seorang wanita dan kebutuhannya akan sebuah hubungan. Kemudian kerapuhan tersebut berubah menjadi kesadaran bahwa pada akhirnya, apa yang pasti kita miliki adalah diri kita sendiri.
Video klip lagu yang berjudul sama dengan album terbarunya ini baru dirilis di akun resmi YouTube Demi Lovato pada tanggal 1 Desember yang lalu. Dan enam hari setelahnya, video klip ini telah ditonton lebih dari 23 juta kali.Â
Berdurasi sepanjang enam menit, video ini diperankan oleh Demi Lovato dan aktor ganteng Jesse Williams yang berperan sebagai dr. Jackson di serial Grey's Anatomy. Video klip yang dikemas layaknya sebuah film ini menunjukkan beragam dimensi dari sebuah hubungan.
Menurut Demi dalam perbincangannya dengan Billboard, saat pertama kali ia mendengar lagu ini ia sendiri sedang mengalami putus cinta. "Lagu ini tentang kerapuhan seseorang saat sebuah hubungan yang sangat serius kandas."
Namun tidak sampai di situ, Demi lalu menambahkan, "Dalam saat yang bersamaan, lagu ini juga ingin mengangkat pemahaman yang salah lewat kalimat, 'Kamu bukan siapa-siapa jika tidak memiliki seseorang,' kalimat yang juga lahir dari emosi yang beragam."
Silakan tonton sendiri video berikut dan simak emosi dan chemistry antara Jesse dan Demi.Â
Dan berikut lirik lengkap lagu Tell Me You Love Me jika Anda ingin sing-along.
Oh no, here we go again
Fighting over what I said
I'm sorry, yeah I'm sorry
Bad at love, no, I'm not good at this
But I can't say I'm innocent
Not hardly, but I'm sorry
And all my friends, they know and it's true
I don't know who I am without you
I got it bad, baby
Got it bad
Oh, tell me you love me
I need someone on days like this, I do
On days like this
Oh, tell me you love me
I need someone
On days like this, I do
On days like this
Oh, can you hear my heart say
No, you ain't nobody 'til you got somebody
You ain't nobody 'til you got somebody
And I hope I never see the day
That you move on and be happy without me
Without me
What's my hand without your heart to hold?
I don't know what I'm living for
If I'm living without you
All my friends, they know and it's true
I don't know who I am without you
I've got it bad, baby
I got it bad
Oh, tell me you love me
I need someone on days like this, I do
On days like this
Oh, tell me you love me
I need someone
On days like this, I do
On days like this
Oh, can you hear my heart say
You ain't nobody 'til you got somebody
You ain't nobody 'til you got somebody
My heart's like
No, you ain't nobody 'til you got somebody
You ain't nobody 'til you got somebody
Everything I need
Is standing in front of me
I know that we will be alright, alright, yeah
Through the ups and downs
Baby, I'ma stick around
I promise we will be alright, alright
Oh, tell me you love me
I need someone on days like this, I do
On days like this
Oh, tell me you love me
I need someone
On days like this, I do
On days like this
Oh, can you hear my heart say
You ain't nobody 'til you got somebody
You ain't nobody 'til you got somebody
Everything I need
Is standing right in front of me
I know that we will be alright, alright, yeah
(Foto: YouTube)