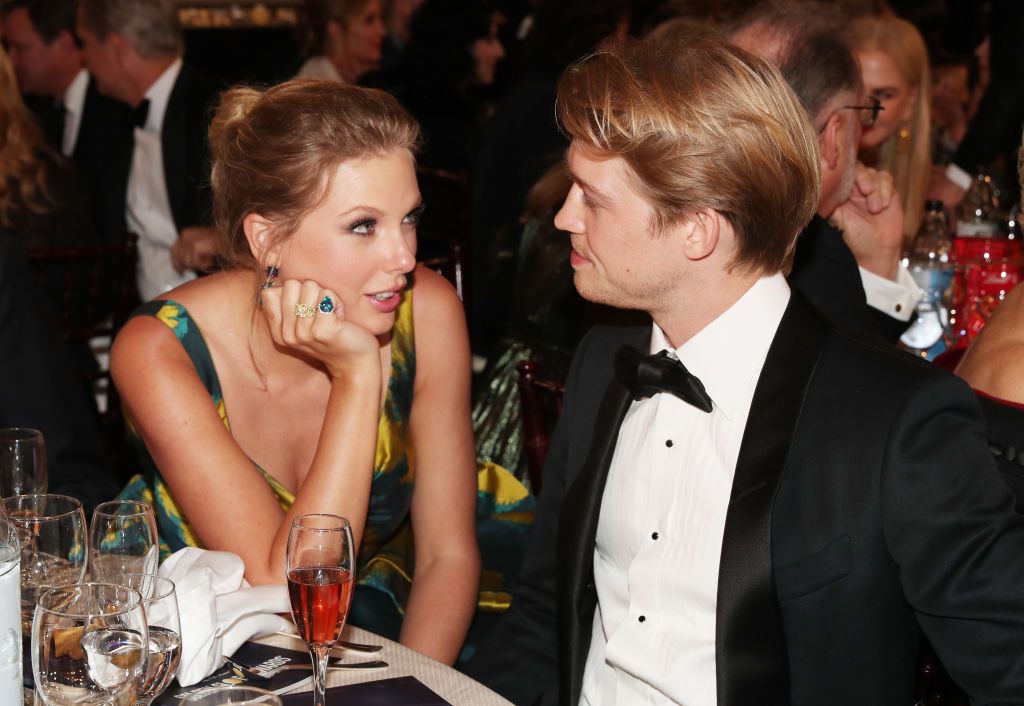 Courtesy of Bazaar US
​​Taylor Swift merilis "All of the Girls You Loved Before," lagunya yang sangat ditunggu-tunggu, yang sebelumnya belum pernah dirilis dari album Lovers-nya tadi malam. Dan, para penggemar sudah memikirkan liriknya.
BACA LAGI: Taylor Swift Debutkan 4 Lagu yang Belum Pernah Dirilis, Tengah Malam Ini
Dengan asumsi lagu tersebut terinspirasi oleh pacar lamanya, Joe Alwyn, Taylor tampaknya memuji para wanita yang Joe cintai sebelumnya dalam lagu tersebut, dengan mengatakan bahwa mereka membantu menjadikannya seperti sekarang ini.
"All of the girls you loved before / Made you the one I've fallen for / Every dead-end street led you straight to me / Now you're all I need, I'm so thankful for / All of the girls you loved before / But I love you more," nyanyinya.
Di pre-chorus, Taylor juga membuat referensi ke lagu lain yang ia tulis tentang Joe, "Mastermind," di mana ia menyanyikan, "Once upon a time, the planets and the fates / And all the stars aligned / You and I ended up in the same room / At the same time."
Ia membuat referensi lain tentang cintanya dengan mengutip sesuatu yang ia katakan dalam "King of My Heart" di album Reputation, yang juga tentang aktor tersebut. Di trek itu, Taylor menyanyikan, "We met a few weeks ago / Now you try on callin' me 'baby' like tryin' on clothes." Dan dalam "All of the Girls You Loved Before," ia mereferensi kembali liriknya, bernyanyi, "The way you call me 'baby' / Treat me like a lady."
Di bridge terakhir, Taylor menghormati ibu Joe, yang menurutnya membesarkannya dengan benar, serta wanita-wanita lain dalam hidupnya. Ia mengakhirinya dengan berjanji untuk mencintainya selamanya.
"Your mother brought you up loyal and kind / Teenage love taught you there's good in goodbye / Every woman that you knew brought you here / I wanna teach you how forever feels like," nyanyi Taylor.
Taylor mulai berkencan dengan Joe pada musim gugur 2016. Sejak itu, ia telah mendedikasikan banyak lagu untuknya, terutama di album Lover. Album tersebut merupakan penghargaan Taylor untuk Joe.
Lirik Lagu "All of the Girls You Loved Before" - Taylor Swift
VERSE 1
When you think of all the late nights
Lame fights over the phone
Wake up in the mornin' with someone
But feelin' alone
REFRAIN
A heart is drawn around your name
In someone's handwriting, not mine
We're sneakin' out into town
Holdin' hands, just killin' time
PRE-CHORUS
Your past and mine are parallel lines
Stars all aligned and they intertwined
And taught you
The way you call me "baby"
Treat me like a lady
All that I can say is
CHORUS
All of the girls you loved before (Ooh)
Made you the one I've fallen for
Every dead-end street led you straight to me
Now you're all I need, I'm so thankful for
All of the girls you loved before
But I love you more
VERSE 2
When I think of all the makeup
Fake love out on the town (Ooh)
Cryin' in the bathroom for some dude
Whose name I cannot remember now
REFRAIN
Secret jokes all alone
No one's home, sixteen and wild (Ooh)
We're breakin' up, makin' up
Leave without sayin' goodbye (Ooh)
PRE-CHORUS
And just know that
It's everything that made me
Now I call you "baby"
That's why you're so amazing
CHORUS
All of the girls you loved before (Ooh)
Made you the one I've fallen for
Every dead-end street led you straight to me
Now you're all I need, I'm so thankful for
All of the girls you loved before
But I love you more
(I love you more)
BRIDGE
Your mother brought you up loyal and kind
Teenage love taught you there's good in goodbye
Every woman that you knew brought you here
I wanna teach you how forever feels like
CHORUS
The girls you loved before (Ooh)
Made you the one I've fallen for
Every dead-end street (Dead-end street) led you straight to me (Straight to me)
Now you're all I need (All I need), I'm so thankful for
All of the girls you loved before
But I love you more
OUTRO
(I love you more)
BACA LAGI:
Lagu Baru Taylor Swift yang Berjudul "Lavender Haze" Bercerita Tentang Hubungannya dengan Joe Alwyn
Panduan Lengkap Album Taylor Swift yang ke-10: Midnights
(Penulis: Rosa Sanchez; Artikel ini disadur dari Bazaar US; Alih bahasa: Bella Nazelina; Foto: Courtesy of BAZAAR US)