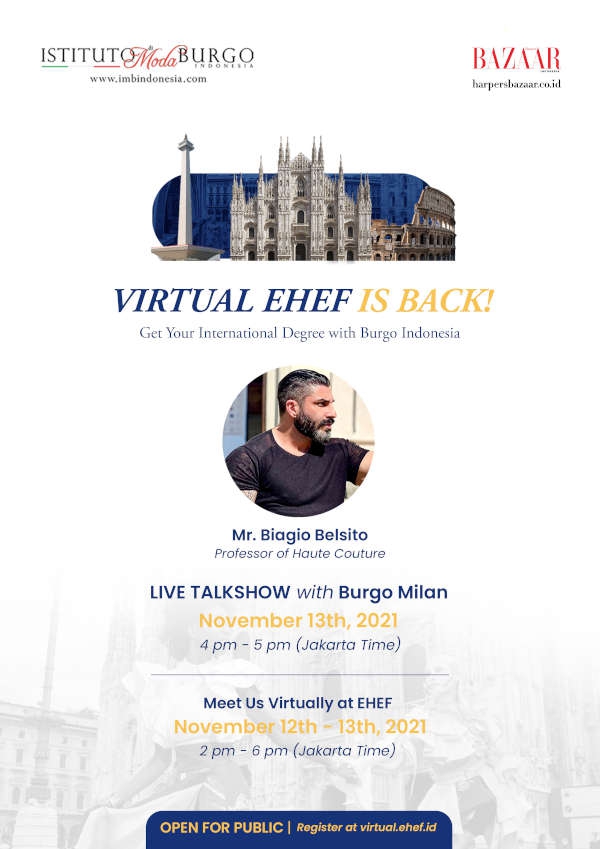 Virtual EHEF is Back!
Find us at the Italian section to get further information about Study Fashion at
Istituto di Moda Burgo.
Save the date to attend Virtual Education Fair :
November 12th -13th, 2021
2.00 PM - 6.00 PM ( Jakarta Time)
Book Study Consultation with Burgo admission team via ZOOM App (you will be redirected to our ZOOM room once you register to attend virtually at that day).

There will be Istituto di Moda Burgo Talk Show with Burgo Professor of Haute Couture - Mr. Biagio Belsito :
"What makes Italian fashion exceptional "
November 13th, 2021
4 PM -5 PM ( Jakarta Time)
Do not miss it and register yourself here:
https://virtual.ehef.id/
EHEF 2021
Come, Find out, and Answer Your Life Calling in Fashion Industry with Istituto di Moda Burgo!
More info, please visit us at:
http://www.imbindonesia.com
Or contact us through:
WhatsApp: +62 811 8180 118 & +62 813-1701-1181
Email: [email protected]