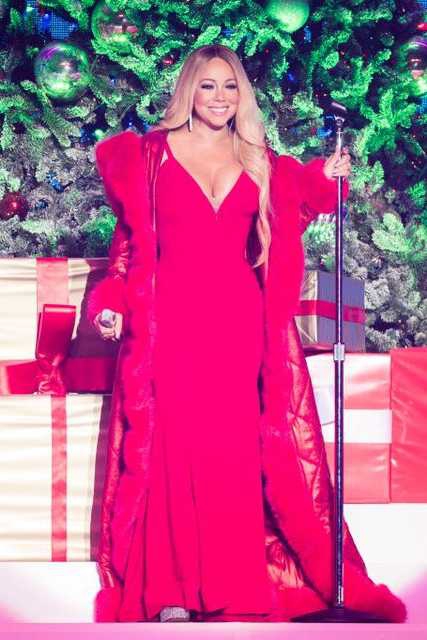 Beberapa musisi populer dunia telah merasakan berbagi panggung dengan penyanyi, penulis lagu, dan diva Mariah Carey. Namun, Jumat lalu, pelantun We Belong Together membagikan inisial nama dua musisi yang akan berkolaborasi dengannya. Mariah membagikan cuplikan di balik layar dari acara spesial Natalnya di AppleTV+ melalui akun Instagramnya.
Dalam foto tersebut, tiga kursi sutradara yang disematkan inisial "AG," "MC," dan "JH," membuat penggemar percaya bahwa Ariana Grande dan Jennifer Hudson akan mengambil bagian dari acara tersebut. Mariah menghiasi foto tersebut dengan emoji pohon natal.
Kabar acara spesial Mariah Carey bertajuk Mariah Carey's Magical Christmas Special dikonfirmasi pada Agustus, sebelum perilisan buku otobiografinya, The Meaning of Mariah Carey. Acara spesial ini akan menghadirkan serangkaian alunan musik, tarian, dan konten animasi yang terinspirasi dari cerita-cerita mengharukan yang menyatukan dunia. Nama Mariah Carey menjadi sosok yang identik dengan hari istimewa tersebut sejak perilisan lagu hitnya All I Want For Christmas Is You pada 1994 silam yang telah menjadi karya musik bersejarah dan lagu ke-19 Mariah yang menempati posisi teratas.
Meski Mariah belum mengonfirmasi kedua nama yang akan berkolaborasi dengannya, para penggemar setianya langsung membagikan perasaan mereka terkait kemungkinan proyek kolaborasi Mariah dengan Ariana dan Jennifer melalui Twitter.
Berikut adalah reaksi terbaik dari penggemar tentang cuplikan Mariah.
ARIANA GRANDE AND JENNIFER HUDSON?? pic.twitter.com/VSDS1z9cgT

— Mariah's Number Ones (@givingyoume) October 9, 2020
Mariah Carey x Arianna Grande x Jennifer Hudson https://t.co/y6lFgEL86y pic.twitter.com/VMsJJZFcEb

— Ξvan Ross Katz (@evanrosskatz) October 9, 2020
MARIAH CAREY ARIANA GRANDE AND JENNIFER HUDSON ARE COLLABORATING ON A CHRISTMAS SONG, GET THE FUCK UP THIS IS THE COLLAB OF THE CENTURY

— CALEB IS DISTRESSED (@imaginetears) October 9, 2020
mariah carey, jennifer hudson, & ariana grande collabing to save 2020 this christmaspic.twitter.com/rIB3LrF5mC

— ken (@ntltcalum) October 9, 2020
is my eyes deceiving me or does this day ariana grande and Jennifer Hudson on a Christmas track cus im gonna scream https://t.co/eItaZCSJux

— R 。◕ ✧☆ (@xxoorita) October 9, 2020
If that AG is for Ariana Grande and JH is for Jennifer Hudson, truly no one is prepared. https://t.co/8G2kAovdab

— Bradley Stern (@MuuMuse) October 9, 2020
MARIAH CAREY IS WORKING ON A CHRISTMAS PROJECT WITH ARIANA GRANDE & JENNIFER HUDSON?? 😭 pic.twitter.com/AhuSQHMDhd

— justice (@justicexlambily) October 9, 2020
mariah carey, jennifer hudson and ariana grande knowing they're going to bless the christmas holidays pic.twitter.com/3W3bvenuJ1

— harrys gucci suit (@remghosts) October 9, 2020
ARIANA GRANDE X MARIAH CAREY X JENNIFER HUDSON COLLAB +*#>×^×[%>×(&× THE COLLAPSE OF THE CENTURY IS COMING
pic.twitter.com/2oESoNWqAS

— 🗿 (@arixabeI) October 9, 2020
WE'RE GETTING MARIAH CAREY, ARIANA GRANDE, N JENNIFER HUDSON IN A CHRISTMAS SONG TOGETHER IM SCREAMING pic.twitter.com/uJOYBerI44

— 𝐦𝐚𝐫𝐢𝐞 ☁️ (@dylanseta) October 9, 2020
ARIANA GRANDE
MARIAH CAREY
JENNIFER HUDSON YUP pic.twitter.com/Tm7FGWsxpS

— james ᵇˡᵐ (@redputationaotd) October 9, 2020
if this is ariana and jennifer hudson it's actually gonna be INSANE. three of the best vocalists of all time https://t.co/d6h9uDSbGs

— georgia (@lovingsweetener) October 9, 2020
so we are getting mariah x ariana x jennifer hudson pic.twitter.com/sqV8RvMIGA

— Mozart (@MozartAzalea) October 9, 2020
Mariah Carey, Ariana Grande, and Jennifer Hudson coming to save 2020 with a Christmas song like: pic.twitter.com/GDX1OpvRW3

— Yael 🎗 (@yourstrulyael) October 9, 2020
ariana, mariah, and jennifer hudson all on one song THE VOCALS pic.twitter.com/MJmpffajDN

— anna (@buterasglass) October 9, 2020
(Penulis: Bianca Betancourt; Alih Bahasa: Vanessa Masli; Artikel ini disadur dari BAZAAR US; Foto: Courtesy of BAZAAR US)